Use of Official Decal and Seal
Use of Official Decal and Seal
IMPORTANT INFORMATION
The legislation (Chapter 89D-11-24 of the NC General Statutes) establishing the NC Landscape Contractors' Licensing Board requires the following of all licensed landscape contractors:
Ҥ 89D-12. License required; use of seal; posting license.
(d) Upon licensure by the Board, each landscape contractor shall obtain a seal of the design authorized by the Board and bearing the name of the licensee, the number of the license, and the legend '"N.C. Licensed Landscape Contractor." A landscape contractor may use the seal only while the license is valid.
Sample Individual Licensee Stamp Seal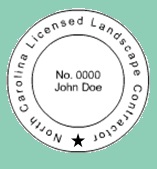 (Seal can be ordered from a local or online office supply business)
Seal should be used and embossed on all agreement and contracts.
Please Note:  If questioned by the office supply business, the Seal should be considered similar to a corporate or business seal and NOT a NC State Government Seal or Notary Seal.
Every landscape contractor issued a license under this Chapter shall display the license conspicuously in the landscape contractor's place of business. Every landscape contractor shall display the license number issued to the contractor by the Board on all business cards, advertising, contracts, and vehicles used by the contractor in the landscape contracting business.
Example:  NCLC #0000                           Corporate: NCLC # CLOOOO

 ***
The Official Licensed Landscape Contractor Decal should be prominently displayed on all licensee work vehicle(s).
It is suggested that all work vehicles have Official Licensed Landscape Contractor Decal indicating they are a licensed Landscape Contractor or are being supervised by a licensed Landscape Contractor.